Welcome to the Kiernan Group Holdings, Inc. (KGH) store. Here you will find offerings from our security and intelligence experts in the fields of homeland security, national security, and emergency planning and preparedness. All of the products focus on KGH's trademarked approach of Preparedness without Paranoia™: understanding that each person can be responsible for his or her security through enhanced situational awareness and understanding of potential threats. This approach fosters companies', agencies', and organizations' resilience through preparation for response to and recovery from a threat incident—whether it's an active shooter or an act of terrorism.
Risk factors can be mitigated through education, preparation, planning, and practice. Preparedness Without Paranoia™ prepares companies and their people with that education through in-person and virtual training tailored to each customer, table-top exercises, and customized security consulting. By training individuals to react according to their capabilities, organizations help ensure survivability and resilience. Making the extraordinary—active threat situations—seem more ordinary shifts the advantage away from an aggressor.
KGH's knowledge offerings provide the education, awareness, and guidance for both individuals and organizations to improve their ability to prepare for, survive, and recover from active shootings, terrorism, insider threats, and workplace violence.
Publications: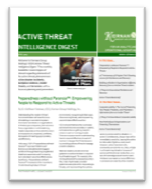 Active Threat Intelligence Digest
Kiernan Group Holding's Active Threat Intelligence Digest is a monthly newsletter covering topics of interest regarding elements of the active threat phenomenon: active shooter incidents, workplace violence, insider threats, and terrorism, with a focus on planning and prevention. Articles feature current topics about emerging threats and trends, commentaries from security experts, ongoing issues, resource guides, and practical tips to prepare yourself and your organization for threats.
Available by Subscription Only: $199.00 annually